The lack of rainfall through out the month of January is presenting an opportunity for anglers to explore much of Lake Shasta with complete opportunity for great spring like success. Turbidity of the water is clearing each day, and the color is greening up. I noticed my downrigger weight is visible on the way up from 24-30 inches. The visibility is getting pretty clear. Some of the bass guys I have spoken with are even experimenting with more colorful bait presentations with success.
During this past week there existed an opportunity to spend a day on the water, and I took it! I blew a fuse hooking up the downrigger and thought, "Oh boy, one of those days?" False starts, unexpected niggling little things for the rest of the day. But everything else was fine. Yay, and I caught fish!
I began my morning where the water was running into the coves of Little Squaw, and Dry Creek using a leach pattern with the fly rod. The screen didn't show very many fish, but I tried anyway to no avail. I thought maybe some trout would be staging for spawning. I then moved out along the banks tossing a brown plastic worm, and a Berkley Gulp biodegradable minnow and hooked a couple of smallies; one using the Gulp, and one using the worms.
Fish began showing up on the screen at 15-25 feet as I entered deeper water, so I prepared the downrigger for action, and the action didn't come for a very long time. My 'go to' wiggle hoochie just wasn't working. I began changing lures, and passing through the fish time after time. Finally, the first hook up. A beautiful little rainbow grabbed a Rapala Countdown, but that fish was the only one to be fooled. I just couldn't find the right combo for the fish in the shallow water.
Although I was told many of the successes from anglers happened from shallow water, I noticed large concentrations of fish being marked from 50-65 feet. The hoochies have done well for fish at this depth, so I went through my favorite three colors white, blue, and purple. The result was one nice spot at 37 feet on the line using the white hoochie.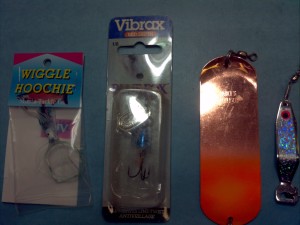 Not enough hoochie love for me, so lure changing I went again. The next strike was on a little chrome and blue Kastmaster. I missed it though, and that was the only strike. I changed to a Blue Fox with the same colors, but larger hook, and boated a 15 inch rainbow. I hooked another similar rainbow in the same water column using a Humdinger.
The long range weather forecast does not show any huge, rain laden storms headed our way, so by Presidents Day this wonderful lake should be a spring angler's dream. Heck, the air temperatures have been as high as 71 degrees, but has been hovering in the mid-50's to low-60's most days. It may be even warmer come Presidents Day in a couple of weeks, so start packing your gear for Lake Shasta so you can be Ketchinnee!