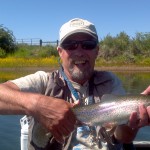 A major part of my angling arsenal is fly fishing equipment. This page will be for reports, and tips, and tying recipes, and gear setups regarding fly fishing for fresh water.
I have been enjoying this technique of fishing since 1979 when I bought my first fly fishing combo. Heck the fly line cost more than the rod and reel!
There was no internet to Google information for setting it all up. I had to research instructions from the library, and magazines. But I put it all together and began catching trout in the shadow of Mt. Hood  in Oregon.
It wasn't until 1993 that a fly fishing friend taught me to tie my own flies. There is a special bond that develops between the angler and the technique when fish begin to take a fly made for the occasion. This is why I want to include recipes for tying flies.
My reports will provide my own experiences on the waters in the vicinity of Shasta Lake. I live here amongst some of the finest trophy fly fishing waters on earth. So things I learn will be passed on to you here.
Enjoy your stay, and feel free to post a comment in the space provided below. All the information here can only help all of us be Ketchinnee!